The skies darkened...
Sadness filled the land...
And the Dragonmaster had lost his way...
Vanishing into the abyss of despair...
But the people cried out...
"We know your heart is heavy..."
"We known your faith has been shattered..."
"We understand your sadness..."
"But please, return to us..."
"You, who gave us the greatest gifts of all..."
"The gifts of happiess, of friendship, and of love..."
"Please, Dragonmaster, return to us..."
And so, the Dragonmaster returned...
He climbed out of the abyss of despair...
Brought back by those he united long ago...
By their own gifts of happiness, of friendship, and of love...
Yes, the Dragonmaster has returned...
---
Welcome!
Presenting the...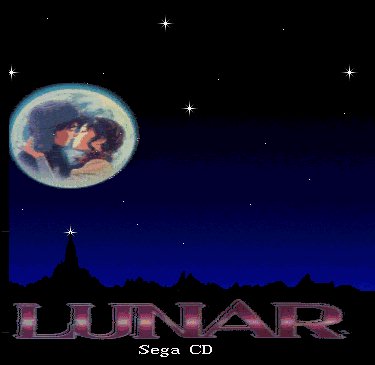 home page
---
In honor of the release of Lunar 2: Eternal Blue Complete in the U.S., I've decided that the time has come for me to put my Lunar page online.

Sadly, many of the images I had were lost due to a faulty backup of the page. I will scour the web (as undoubtedly a lot of people swiped my images [many of which I swiped anyway]) for the missing images and slowly put things back together. I may no longer have the massive screenshot archive I had before (although once I get a video capture card I may have new stuff. :)).

Also, these pages are pretty much a restore of my backup. The news in it is old and needs to be updated, but I'll be doing it piece by piece. Rome wasn't built in a day, however, a good foundation to build on won't be bad either. :) I also plan to cleanup the disgustingly ugly html in these pages as well.
What's new
(As of December 17, 2000)
I'm back online! Enough said! Please excuse broken and dead links here. Day by day I'll be fixing them, updating them, etc. If you happen to have a page linked here with outdated info, please let me know.

What's here

The Lunar: The Silver Star FAQ

32-bit PCM Converter for Win9x/NT/ME
Timothy Lanza, AKA TrueBlue, has ported the PCM converter to Win32! Get it from my Lunar: EB Sounds Page.

Lunar: A Story Fogotten IRC RPG:
This is my own IRC RPG based on my Lunar fanfics. Feel free to check out the Lunar:ASF home page.
Lunar: Eternal Blue page

Lunar: The Silver Star pictures
Lunar manga translation:
For those of you who may not know, manga are Japanese comic books. Here's a translation of the Lunar manga which features characters from Eternal Blue and takes place just before the epilogue. It is available here.
Lunar: Middleground home page:
Lunar: Middleground is Brian Peterson's IRC RPG. The home page was originally managed by Ronfar, but he passed the reins on to me. Please, check out my Middleground page and let me know what you think.
Heroes of Althena
| | |
| --- | --- |
| | The days when there were only four "Heroes of Althena" (including myself) on the web have long since past. There are many, many more now, so many that I decided they should be honored with a page of their own. However, seeing as how the links haven't been updated in years, the link is down. If you have a Lunar page I don't know about, please mail me with the link. |
Special Thanks
I'd like to thank several people right now for giving me reason to put this page back online. I'd also like to thank Nikki, Nadia, Kenshiro, Miko, Blake, Lucia, Lucca, Selena Ausa, HxDragon, Valina, Rune, Iceberg, WKScott, and anyone else I may have missed. It was your messages that pushed me over the edge to bring my page back. Thanks, you really made me feel like I made a difference with this page, something I never realized before. Remember, these pages are here again because of you and no one else!

Feel free to drop me a note at Drgnmstr@Netspace.org


---